This letter from Lincoln directed John Hay to travel to New York in 1864 on political business. Accompanying letters in the Collected Works of Abraham Lincoln indicate the trip included a visit with Horace Greeley of the New York Tribune. This particular letter does not appear in Basler's edition. It was found in the Adjutant General's records (RG 94, M619).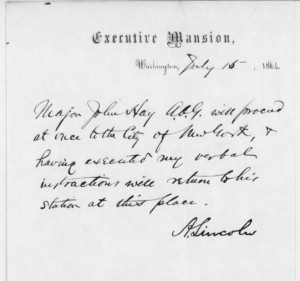 TRANSCRIPT:
Executive Mansion
Washington, July 15, 1864
Major John Hay, A.A.G., will proceed at once to the City of New York, &  having executed my verbal instructions, will return to his station at this place.
A. Lincoln