Cracks in the Ivory Tower: The Moral Mess of Higher Education
By Jason Brennan and Phillip Magness (Oxford University Press, 2019) ISBN 0190846283
Ideally, universities are centers of learning, in which great researchers dispassionately search for truth, no matter how unpopular those truths must be. The marketplace of ideas assures that truth wins out against bias and prejudice. Yet, many people worry that there's rot in the heart of the higher education business.
In Cracks in the Ivory Tower, libertarian scholars Jason Brennan and Philip Magness reveal the problems are even worse than anyone suspects. Marshalling an array of data, they systematically show how contemporary American universities fall short of these ideals and how bad incentives make faculty, administrators, and students act unethically. While universities may at times excel at identifying and calling out injustice outside their gates, Brennan and Magness contend that individuals are primarily guided by self-interest at every level. They find that the problems are deep and pervasive: most academic marketing and advertising is semi-fraudulent; colleges and individual departments regularly make promises they do not and cannot keep; and most students cheat a little, while many cheat a lot. Trenchant and wide-ranging, they elucidate the many ways in which faculty and students alike have every incentive to make teaching and learning secondary.
In this revealing exposé, Brennan and Magness bring to light many of the ethical problems universities, faculties, and students currently face. In turn, they reshape our understanding of how such high-powered institutions run their business.
Where to Purchase:

What is Classical Liberal History?
Edited by Michael Douma and Phillip Magness (Rowman and Littlefield, 2017) ISBN 1498536107
Historians working in the classical liberal tradition believe that individual decision-making and individual rights matter in the making of history. History written in the classical liberal tradition emerged largely in the nineteenth century, when the field of history was first professionalized in Europe and the Americas. Professional historical research was then imbued with liberal values, which included rigorous attention to the sources, historicist suspicion of an ultimate mover, an honest and dispassionate rational outlook, and humility towards what could be known. Above all, liberals wanted to chart the history of liberty, warn against threats to liberty, and defend it in an evolving political world. They believed history was real, and that it had lessons to teach, but that these lessons could not provide sufficient knowledge to predict the future or reorganize society around a central plan.
This book demonstrates how the classical liberal tradition in historical writing persists to this day, but how it is often neglected and due for renewal. The book contrasts the classical liberal view on history with conservative, progressive, Marxist, and post-modern views.
Each of the eleven chapters address a different historical topic, from the development of classical liberalism in nineteenth century America to the the history of civil liberties and civil rights that stemmed from this tradition. Authors give particular attention to the importance of social and economic analysis. Each contributor was chosen as an expert in their field to provide a historiographical overview of their subject, and to explain what the classical liberal contribution to this historiography has been and should be. Authors then provide guidance towards possible tools of analysis and related research topics that future historians working in the classical liberal tradition could take up.
The authors wish to call upon other historians to recognize the important contributions to historical understanding that have come and can be provided by the insights of classical liberalism.
Where to Purchase: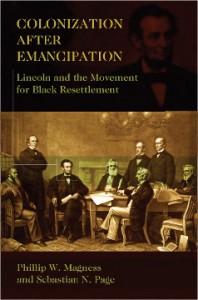 Colonization After Emancipation: Lincoln and the Movement for Black Resettlement
By Phillip W. Magness and Sebastian N. Page (University of Missouri Press, 2011) ISBN: 0826219098
Abraham Lincoln's legacy as the "Great Emancipator" has made him one of the most widely recognized figures in American history. Relatively little attention has been paid, however, to Lincoln's plans for the slaves freed by his famous Proclamation of January 1, 1863.
For the first few years of his presidency, Lincoln toyed with the policy of colonization – the resettlement of former slaves by transporting them to the tropical locations abroad. Historians have long debated the significance of his involvement in this peculiar and controversial "solution" for a post-slavery America, though interest in colonization seemed to wane as the Civil War progressed.
Documents exist, however, that tell a different story. Along with co-author Sebastian N. Page, Dr. Magness combed through extensive archival materials to  expose what history has neglected to reveal—that Lincoln continued to pursue colonization for close to a year after emancipation. Magness and Page's "Colonization after Emancipation: Lincoln and the Movement for Black Resettlement" reveals the hidden history of Abraham Lincoln's negotiations with the British government and other colonial powers to establish settlements for the freed slaves in the Caribbean and Central America.
Lincoln initiated the project only weeks after signing the Emancipation Proclamation during a highly secretive visit  with Lord Lyons, the British minister to the United States. In the months that followed, a plan emerged to relocate the slaves to such locales as British Honduras, Guiana, and the neighboring Dutch colony of Suriname under the direction of the United States Emigration Office and its sometimes irascible commissioner, James Mitchell. Lincoln's final colonization program collapsed before the end of the war amidst political wrangling and behind-the-scenes intrigue at the highest levels of the cabinet, but not before it left a little-noticed paper trail spanning three continents.
Magness and Page's work reveals this new chapter in the presidency of Abraham Lincoln, while also exploring evidence that he may have been planning to revive the colonization project on the eve of his assassination. A valuable contribution to Lincoln studies and Civil War history, "Colonization after Emancipation" presents a groundbreaking account of forgotten history and illuminates just how complex, and even convoluted, Abraham Lincoln's ideas about the end of slavery really were.
Where to Purchase: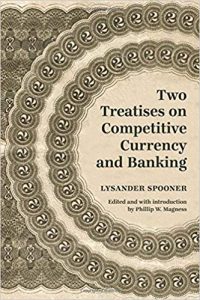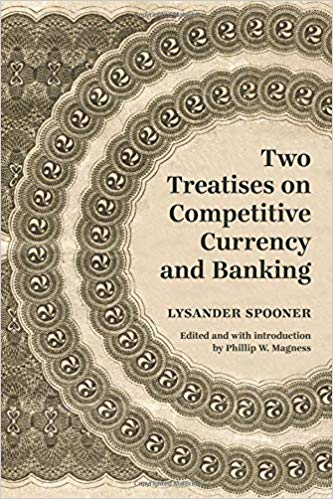 Two Treatises on Competitive Currency and Banking
By Lysander Spooner, edited and with introduction by Phillip Magness (American Institute for Economic Research, 2018) ISBN 0913610453
Available for the first time in over 140 years, these two "lost" treatises by libertarian legal philosopher Lysander Spooner present his vision for a radically decentralized monetary system rooted in privately issued competitive currencies and free-banking.
Once presumed to have been destroyed in a turn-of-the-century fire, these writings contain Spooner's most extensive foray into economic theory and reveal new insights into his distinctive and uncompromising free-market vision.
Where to Purchase: