In late January 1863 President Lincoln called upon Lord Lyons, the British Minister to the United States, to propose a joint venture between their governments: colonization. Specifically, Lincoln sought a suitable location for the resettlement of the slaves that were freed only three weeks prior by the Emancipation Proclamation. With a British partnership in mind, he intended to induce their migration to the labor-starved colonies of the Caribbean and Central America.
The full story of this little-known project is revealed for the first time in Colonization after Emancipation, having sat unnoticed in the British National Archives for almost 150 years. But was a key piece of evidence actually hiding in plain sight all along?
This readily accessible paper in the Abraham Lincoln manuscripts at the Library of Congress documents what appears to be a routine exchange between Lincoln and Lord Lyons. It is signed by James Mitchell, and instructs John G. Nicolay to deliver a packet of papers requested by the president. The apparent date on the document, as well as the location it is filed in Lincoln's papers, is January 26, 1862 – a full year prior to the aforementioned colonization meeting.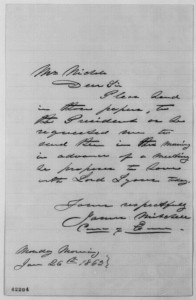 Look more closely at the date though. There appears to be an ink smudge near the top of the "2" in 1862. That's because the "2" is actually a "3." The additional clue of "Monday Morning" confirms this hypothesis, as January 26, 1863 fell on a Monday whereas the same date a year prior did not.

The papers referred to the letter, as well as the involvement of its author Mitchell, are explained in the records of the British Legation, which reported it back to London in a diplomatic dispatch the next day. The President had sent for Lord Lyons to "ask whether we were prepared to enter into arrangements with the Government of the United States" in order to receive "the emigration of coloured people from this country to the British colonies."
Though most of our knowledge of this event and the negotiations that followed comes from British records, the American holdings contained a key clue, unnoticed for all these years because of a smudged date!