On April 11, 1865 Major General Benjamin F. Butler joined Abraham Lincoln for a private meeting at the White House. Many years later, Butler wrote a short account of of this meeting, referencing it as the last time he saw Lincoln alive. Butler claimed that the president asked him to revive his administration's colonization program and lead the resettlement of freed slaves in Panama.
For decades many historians have openly doubted whether Butler's reported meeting  with Lincoln even happened at all. The general first gave his story over 20 years after the fact, and in one version of its telling the timeline did not seem to add up with Lincoln's and Butler's known whereabouts. This letter to Butler from Lincoln's secretary John Hay resolves the mystery by placing the meeting only three days before Lincoln's assassination. A lengthy discussion of the evidence surrounding Butler's account of the meeting may be found here.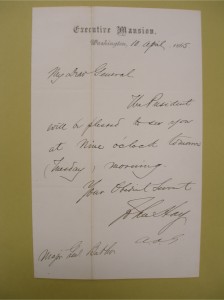 TRANSCRIPT:
Executive Mansion
Washington, 10 April, 1865
My Dear General
The President will be pleased to see you at nine o'clock tomorrow (Tuesday) morning.
Your Obedient Servant,
John Hay
A.A.G.
Major Genl. Butler