Welcome!
I am an economic and political historian whose work focuses on the United States and the broader Atlantic world. My research explores the intersection of history and political economy, including the 19th century as well as longer term trends in the macroeconomy such as taxation, trade, and economic inequality. I also work on the political economy of higher education.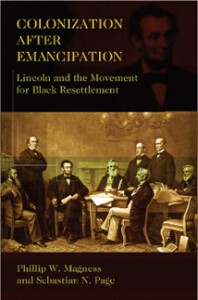 Slavery, and particularly the black colonization movement
History of tariffs, trade, and taxation
The economic history of inequality and tax-based redistribution
The history and political economy of higher education
A glimpse into my ongoing research interests, as well as general commentary on academia, may be found on my blog. A presentation that I gave on the black abolitionist John Willis Menard for C-Span's American History TV appears below:
U.S. Capitol Historical Society Black History Month Lecture, February 15, 2012
Abolitionist John Willis Menard was elected to the U.S. Congress in 1868, and although he was never seated, he was the first African American to address the House chamber.
Watch the full program here on C-Span's American History TV
Website Highlights:
Index of New Civil War Document Discoveries
New Scholarship Abraham Lincoln & the Civil War