New Lincoln document discovered in Belize: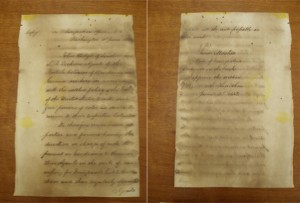 In June of 1863 Abraham Lincoln entered into an agreement with the government of Great Britain to colonize recently freed African Americans in its West Indian colonies of Guiana and British Honduras (modern day Belize). The document  pictured above bears Lincoln's endorsement of the project and was produced for Frederick Seymour, the colonial governor of British Honduras. It is one of four known first-generation copies.
The full story of this little-known colonization venture may be found in Colonization After Emancipation: Lincoln and the Movement for Black Resettlement by Phillip W. Magness and Sebastian N. Page.
The Career of Abolitionist John Willis Menard:
U.S. Capitol Historical Society Black History Month Lecture, February 15, 2012
Abolitionist John Willis Menard was elected to the U.S. Congress in 1868, and although he was never seated, he was the first African American to address the House chamber.
Watch the full program here on C-Span's American History TV
Website Highlights:
Index of New Civil War Document Discoveries
New Scholarship Abraham Lincoln & the Civil War